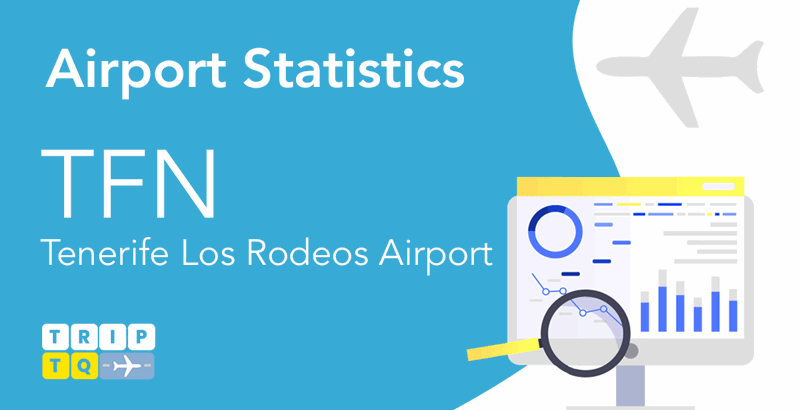 6% Increase in July Passengers - Record-Breaking Numbers for Tenerife North Airport
According to the data, Tenerife North Airport has witnessed substantial growth in passenger numbers, reaching its highest recorded monthly figure. In July 2019, the airport served a total of 541,207 passengers. However, in July 2023, there was a remarkable passenger surge, with a 6.36% increase compared to the pre-pandemic records.
It is important to note that the aviation industry faced unprecedented challenges in 2020 due to the impact of the pandemic, which led to travel restrictions and safety concerns. Consequently, passengers significantly declined globally, including at North Tenerife Airport. However, the recent increase in passenger numbers marks a positive recovery trend for the airport.
However, as the world gradually emerges from the pandemic, the aviation industry has shown signs of recovery. After prolonged uncertainty, people are eager to resume their travel plans and explore new destinations. North Tenerife, known for its natural beauty and vibrant tourist attractions, benefits from this demand.
The thriving tourism industry, increased flight connectivity, improved airport infrastructure, effective marketing efforts, favorable economic conditions, and attractive local events have all played their part in attracting more passengers.
The surge in passenger numbers can be attributed to pent-up demand after a year of limited travel opportunities. Many individuals and families have postponed their vacations, and the easing of travel restrictions has led to a surge in bookings, resulting in increased passenger numbers as the long term statistics show.
Tenerife is a highly sought-after tourist destination renowned for its beautiful beaches, pleasant climate, and diverse landscapes. It is a popular tourist destination known for its stunning beaches, breathtaking landscapes, and mild climate.
The island attracts visitors worldwide, particularly during the summer when people seek a relaxing getaway. It is known for its vibrant cultural scene, hosting events yearly that attract locals and tourists. July is an event on the island, with festivals, concerts, and other cultural celebrations.
Tenerife North Airport has significantly invested in upgrading its infrastructure to meet the increasing passenger demand. The airport has expanded its terminals, improved security measures, simplified check-in procedures, and boosted overall operational efficiency. These enhancements have greatly enhanced the passenger experience, making the airport an attractive choice for more travelers.
In addition to the airport's improvements, successful marketing campaigns promoting Tenerife as a highly sought-after vacation destination have played a crucial role in attracting more passengers. Working closely with airlines and travel agencies, local tourism authorities have implemented targeted promotional activities to entice more visitors to choose Tenerife as their holiday destination.
Ongoing Wildfire Puts Tenerife North Airport's Recent Gains at Risk
Tenerife North Airport's passenger traffic increased in July 2023, but there is concern that these gains will be lost in the future months due to the wildfires. The fire started at a nature reserve on the northeast coast of Tenerife on the evening of August 15, 2023.
According to reports, the primary blaze spreads through the ravines and forests of the Arafo and Candelaria regions. Access to Mount Teide, the highest point in Spain, has been restricted. Officials have shut down roads and evacuated villages. How will the ongoing wildfires on the island of Tenerife affect the number of passengers at Tenerife North Airport?
The prevailing wildfire on Tenerife Island will probably influence the volume of passengers at Tenerife North Airport in the next months. Due to the closure of highways and the evacuation of settlements, those embarking on travel may need help accessing the airport or may choose to postpone or reschedule their journeys. This may cause a decline in the number of passengers using the airport.
Only specific information about the wildfire's progression and trajectory can indicate which region will be most severely impacted. However, since the fire began on the northeast coast, Tenerife North Airport may be more directly affected north of the island. This is especially true if Mount Teide, a popular tourist attraction in the area, remains inaccessible.
The south of the island, where Tenerife South Airport is situated, may also see some indirect effects. Travelers who had planned to fly into Tenerife North Airport but cannot do so due to road closures or other disruptions may choose to reroute their flights to Tenerife South Airport instead. This could lead to an increase in passenger numbers at the southern airport.
It is also important to note that the extent of the impact on passenger numbers will depend on the duration and severity of the wildfire, as well as the efforts taken to contain and extinguish it.
Travelers should stay updated on the situation and follow any guidance or instructions from local authorities and airlines. Airport authorities, airlines, and local authorities will closely monitor the situation and update the public regarding any adjustments or disruptions to flight schedules.
UNBEATABLE VALUE CAR RENTAL

FREE
Amendments,
FREE
Cancellations,
NO
card fees!

airport_shuttle Need Airport Transfers?
Useful Information about Tenerife Los Rodeos Airport