Destinations with connections to Tenerife Los Rodeos Airport (TFN)
Flights, Arrivals & Departures at Tenerife Los Rodeos Airport
Origin
Airline
Flight no.
Scheduled
Est./Actual
Status
Madrid (MAD)
Swiftair
WT881
07:00
Scheduled
Madrid (MAD)
Swiftair
WT122
07:15
Scheduled
Las Palmas (LPA)
Binter Canarias
NT153
07:30
Scheduled
Las Palmas (LPA)
Swiftair
WT182
07:30
Scheduled
Lanzarote (ACE)
Binter Canarias
NT451 expand_more(1)
07:50
Scheduled
Lanzarote (ACE)
Iberia
IB125
07:50
Scheduled
Las Palmas (LPA)
Iberia
IB9011
07:50
Scheduled
Las Palmas (LPA)
Binter Canarias
NT103
08:00
Scheduled
Las Palmas (LPA)
CanaryFly
PM615 expand_more(1)
08:00
Scheduled
Las Palmas (LPA)
Air Europa
UX2111
08:00
Scheduled
Sevilla (SVQ)
Vueling
VY3254 expand_more(1)
08:00
Scheduled
Sevilla (SVQ)
Iberia
IB5291
08:00
Scheduled
Madrid (MAD)
Ryanair
FR4199
08:10
Scheduled
Barcelona (BCN)
Ryanair
FR525
08:25
Scheduled
Las Palmas (LPA)
Binter Canarias
NT107
08:30
Scheduled
Santa Cruz De La Palma (SPC)
Binter Canarias
NT604
08:30
Scheduled
Madrid (MAD)
Air Europa
UX9059 expand_more(4)
08:55
Scheduled
Madrid (MAD)
Aeromexico
AM6997
08:55
Scheduled
Madrid (MAD)
Air France
AF4795
08:55
Scheduled
Madrid (MAD)
Etihad Airways
EY4347
08:55
Scheduled
Madrid (MAD)
KLM
KL3371
08:55
Scheduled
Las Palmas (LPA)
Binter Canarias
NT105 expand_more(1)
09:00
Scheduled
Las Palmas (LPA)
Iberia
IB602
09:00
Scheduled
Santa Cruz De La Palma (SPC)
Binter Canarias
NT606 expand_more(1)
09:00
Scheduled
Santa Cruz De La Palma (SPC)
Iberia
IB87
09:00
Scheduled
Lanzarote (ACE)
Binter Canarias
NT453
09:15
Scheduled
Santa Cruz De La Palma (SPC)
CanaryFly
PM413 expand_more(1)
09:15
Scheduled
Santa Cruz De La Palma (SPC)
Air Europa
UX2106
09:15
Scheduled
Puerto del Rosario (FUE)
Binter Canarias
NT415
09:20
Scheduled
Las Palmas (LPA)
Binter Canarias
NT119 expand_more(1)
09:30
Scheduled
Las Palmas (LPA)
Iberia
IB603
09:30
Scheduled
Santa Cruz De La Palma (SPC)
Binter Canarias
NT608 expand_more(1)
09:30
Scheduled
Santa Cruz De La Palma (SPC)
Iberia
IB115
09:30
Scheduled
Valverde (VDE)
Binter Canarias
NT656 expand_more(1)
09:35
Scheduled
Valverde (VDE)
Iberia
IB124
09:35
Scheduled
Madrid (MAD)
Iberia Express
IB3942 expand_more(3)
09:40
Scheduled
Madrid (MAD)
American Airlines
AA8700
09:40
Scheduled
Madrid (MAD)
Avianca
AV6092
09:40
Scheduled
Madrid (MAD)
Vueling
VY5482
09:40
Scheduled
Las Palmas (LPA)
Binter Canarias
NT111
10:00
Scheduled
Santa Cruz De La Palma (SPC)
Binter Canarias
NT602
10:00
Scheduled
Las Palmas (LPA)
CanaryFly
PM617 expand_more(1)
10:15
Scheduled
Las Palmas (LPA)
Air Europa
UX2153
10:15
Scheduled
Las Palmas (LPA)
Binter Canarias
NT109 expand_more(1)
10:30
Scheduled
Las Palmas (LPA)
Iberia
IB604
10:30
Scheduled
Santa Cruz De La Palma (SPC)
Binter Canarias
NT612
10:30
Scheduled
San Sebas De La Gomera (GMZ)
Binter Canarias
NT650 expand_more(1)
11:00
Scheduled
San Sebas De La Gomera (GMZ)
Iberia
IB122
11:00
Scheduled
Las Palmas (LPA)
Binter Canarias
NT115
11:00
Scheduled
Santa Cruz De La Palma (SPC)
CanaryFly
PM419 expand_more(1)
11:15
Scheduled
Santa Cruz De La Palma (SPC)
Air Europa
UX2107
11:15
Scheduled
Madrid (MAD)
Iberia Express
IB3934 expand_more(3)
11:20
Scheduled
Madrid (MAD)
Avianca
AV2570
11:20
Scheduled
Madrid (MAD)
Qatar Airways
QR5371
11:20
Scheduled
Madrid (MAD)
Vueling
VY5294
11:20
Scheduled
Santa Cruz De La Palma (SPC)
Binter Canarias
NT610
11:30
Scheduled
Valverde (VDE)
Binter Canarias
NT662
11:50
Scheduled
Las Palmas (LPA)
Binter Canarias
NT127 expand_more(1)
12:00
Scheduled
Las Palmas (LPA)
Iberia
IB83
12:00
Scheduled
Lanzarote (ACE)
Binter Canarias
NT469 expand_more(1)
12:10
Scheduled
Lanzarote (ACE)
Iberia
IB117
12:10
Scheduled
Puerto del Rosario (FUE)
Binter Canarias
NT423 expand_more(1)
12:20
Scheduled
Puerto del Rosario (FUE)
Iberia
IB116
12:20
Scheduled
Santa Cruz De La Palma (SPC)
Binter Canarias
NT618 expand_more(1)
12:30
Scheduled
Santa Cruz De La Palma (SPC)
Iberia
IB638
12:30
Scheduled
Alicante (ALC)
Vueling
VY3118 expand_more(1)
12:35
Scheduled
Alicante (ALC)
Iberia
IB5247
12:35
Scheduled
Las Palmas (LPA)
Binter Canarias
NT1371
13:00
Scheduled
Lanzarote (ACE)
Binter Canarias
NT465
13:20
Scheduled
Las Palmas (LPA)
Binter Canarias
NT145
13:30
Scheduled
Santa Cruz De La Palma (SPC)
Binter Canarias
NT614
13:30
Scheduled
Puerto del Rosario (FUE)
Binter Canarias
NT431
13:40
Scheduled
Sevilla (SVQ)
Vueling
VY3256 expand_more(1)
13:40
Scheduled
Sevilla (SVQ)
Iberia
IB5293
13:40
Scheduled
Lanzarote (ACE)
CanaryFly
PM547 expand_more(1)
13:55
Scheduled
Lanzarote (ACE)
Air Europa
UX2162
13:55
Scheduled
Manises (VLC)
Vueling
VY3102 expand_more(1)
13:55
Scheduled
Manises (VLC)
Iberia
IB5239
13:55
Scheduled
Valverde (VDE)
Binter Canarias
NT658 expand_more(1)
14:05
Scheduled
Valverde (VDE)
Iberia
IB634
14:05
Scheduled
Malaga (AGP)
Vueling
VY3274 expand_more(1)
14:10
Scheduled
Malaga (AGP)
Iberia
IB5303
14:10
Scheduled
Madrid (MAD)
Iberia Express
IB3946 expand_more(7)
14:20
Scheduled
Madrid (MAD)
American Airlines
AA8702
14:20
Scheduled
Madrid (MAD)
Avianca
AV6094
14:20
Scheduled
Madrid (MAD)
British Airways
BA7090
14:20
Scheduled
Madrid (MAD)
Bulgaria Air
FB1409
14:20
Scheduled
Madrid (MAD)
Cathay Pacific
CX1857
14:20
Scheduled
Madrid (MAD)
Qatar Airways
QR6546
14:20
Scheduled
Madrid (MAD)
Vueling
VY5486
14:20
Scheduled
Madrid (MAD)
Air Europa
UX9118 expand_more(7)
14:20
Scheduled
Madrid (MAD)
Aeromexico
AM6895
14:20
Scheduled
Madrid (MAD)
Air France
AF4828
14:20
Scheduled
Madrid (MAD)
AirSERBIA
JU7405
14:20
Scheduled
Madrid (MAD)
Delta Air Lines
DL6748
14:20
Scheduled
Madrid (MAD)
Etihad Airways
EY4398
14:20
Scheduled
Madrid (MAD)
ITA Airways
AZ2454
14:20
Scheduled
Madrid (MAD)
KLM
KL3368
14:20
Scheduled
Las Palmas (LPA)
Binter Canarias
NT147 expand_more(1)
14:30
Scheduled
Las Palmas (LPA)
Iberia
IB608
14:30
Scheduled
Santa Cruz De La Palma (SPC)
Binter Canarias
NT622 expand_more(1)
14:30
Scheduled
Santa Cruz De La Palma (SPC)
Iberia
IB624
14:30
Scheduled
Barcelona (BCN)
Vueling
VY3212 expand_more(3)
14:35
Scheduled
Barcelona (BCN)
Iberia
IB5283
14:35
Scheduled
Barcelona (BCN)
LATAM Airlines
LA5879
14:35
Scheduled
Barcelona (BCN)
Qatar Airways
QR3665
14:35
Scheduled
Las Palmas (LPA)
CanaryFly
PM627 expand_more(1)
14:40
Scheduled
Las Palmas (LPA)
Air Europa
UX2114
14:40
Scheduled
Oviedo Aviles (OVD)
Binter Canarias
NT5461
14:40
Scheduled
Sevilla (SVQ)
Ryanair
FR1162
15:25
Scheduled
Puerto del Rosario (FUE)
Binter Canarias
NT439
15:30
Scheduled
Las Palmas (LPA)
Binter Canarias
NT135 expand_more(1)
15:30
Scheduled
Las Palmas (LPA)
Iberia
IB86
15:30
Scheduled
Santa Cruz De La Palma (SPC)
Binter Canarias
NT646
15:30
Scheduled
Puerto del Rosario (FUE)
Binter Canarias
NT447
15:50
Scheduled
Lanzarote (ACE)
Binter Canarias
NT471
16:10
Scheduled
Puerto del Rosario (FUE)
Binter Canarias
NT421 expand_more(1)
16:20
Scheduled
Puerto del Rosario (FUE)
Iberia
IB102
16:20
Scheduled
Valverde (VDE)
Binter Canarias
NT664 expand_more(1)
16:25
Scheduled
Valverde (VDE)
Iberia
IB90
16:25
Scheduled
Las Palmas (LPA)
Binter Canarias
NT167 expand_more(1)
16:30
Scheduled
Las Palmas (LPA)
Iberia
IB609
16:30
Scheduled
Las Palmas (LPA)
CanaryFly
PM623 expand_more(1)
16:30
Scheduled
Las Palmas (LPA)
Air Europa
UX2117
16:30
Scheduled
Santa Cruz De La Palma (SPC)
Binter Canarias
NT632
16:30
Scheduled
Madrid (MAD)
Iberia
IB3940 expand_more(6)
16:45
Scheduled
Madrid (MAD)
Avianca
AV6036
16:45
Scheduled
Madrid (MAD)
Bulgaria Air
FB1403
16:45
Scheduled
Madrid (MAD)
LATAM Airlines
LA1582
16:45
Scheduled
Madrid (MAD)
Qatar Airways
QR6592
16:45
Scheduled
Madrid (MAD)
Royal Air Maroc
AT5420
16:45
Scheduled
Madrid (MAD)
Vueling
VY5481
16:45
Scheduled
Madrid (MAD)
Air Europa
UX9048 expand_more(7)
16:55
Scheduled
Madrid (MAD)
Aeromexico
AM6825
16:55
Scheduled
Madrid (MAD)
Air France
AF4814
16:55
Scheduled
Madrid (MAD)
Etihad Airways
EY4337
16:55
Scheduled
Madrid (MAD)
ITA Airways
AZ2426
16:55
Scheduled
Madrid (MAD)
KLM
KL3389
16:55
Scheduled
Madrid (MAD)
Tarom
RO9449
16:55
Scheduled
Madrid (MAD)
Turkish Airlines
TK4588
16:55
Scheduled
Las Palmas (LPA)
Binter Canarias
NT171
17:00
Scheduled
Lanzarote (ACE)
Binter Canarias
NT473
17:05
Scheduled
Puerto del Rosario (FUE)
CanaryFly
PM375 expand_more(1)
17:30
Scheduled
Puerto del Rosario (FUE)
Air Europa
UX2140
17:30
Scheduled
Las Palmas (LPA)
Binter Canarias
NT169 expand_more(1)
17:30
Scheduled
Las Palmas (LPA)
Iberia
IB612
17:30
Scheduled
Santa Cruz De La Palma (SPC)
Binter Canarias
NT634
17:30
Scheduled
Madrid (MAD)
Swiftair
WT186
17:30
Scheduled
Lanzarote (ACE)
CanaryFly
PM549 expand_more(1)
17:35
Scheduled
Lanzarote (ACE)
Air Europa
UX2151
17:35
Scheduled
Las Palmas (LPA)
Binter Canarias
NT165
18:00
Scheduled
Santiago De Compostela (SCQ)
Vueling
VY3225 expand_more(1)
18:00
Scheduled
Santiago De Compostela (SCQ)
Iberia
IB5288
18:00
Scheduled
San Sebas De La Gomera (GMZ)
Binter Canarias
NT652
18:20
Scheduled
Madrid (MAD)
Iberia
IB3758
18:25
Scheduled
Las Palmas (LPA)
Binter Canarias
NT173
18:30
Scheduled
Santa Cruz De La Palma (SPC)
Binter Canarias
NT636
18:30
Scheduled
Santa Cruz De La Palma (SPC)
CanaryFly
PM455 expand_more(1)
18:30
Scheduled
Santa Cruz De La Palma (SPC)
Air Europa
UX2156
18:30
Scheduled
Madrid (MAD)
Iberia Express
IB3944 expand_more(8)
18:35
Scheduled
Madrid (MAD)
American Airlines
AA8701
18:35
Scheduled
Madrid (MAD)
Avianca
AV6030
18:35
Scheduled
Madrid (MAD)
British Airways
BA7094
18:35
Scheduled
Madrid (MAD)
Bulgaria Air
FB1405
18:35
Scheduled
Madrid (MAD)
LATAM Airlines
LA7049
18:35
Scheduled
Madrid (MAD)
Qatar Airways
QR6585
18:35
Scheduled
Madrid (MAD)
Royal Air Maroc
AT5423
18:35
Scheduled
Madrid (MAD)
Vueling
VY5484
18:35
Scheduled
Puerto del Rosario (FUE)
Binter Canarias
NT427
18:50
Scheduled
Lanzarote (ACE)
Binter Canarias
NT475
19:00
Scheduled
Las Palmas (LPA)
Binter Canarias
NT175
19:00
Scheduled
Santa Cruz De La Palma (SPC)
Binter Canarias
NT648
19:00
Scheduled
Barcelona (BCN)
Vueling
VY3208 expand_more(3)
19:25
Scheduled
Barcelona (BCN)
Iberia
IB5279
19:25
Scheduled
Barcelona (BCN)
LATAM Airlines
LA5878
19:25
Scheduled
Barcelona (BCN)
Qatar Airways
QR3664
19:25
Scheduled
Valverde (VDE)
Binter Canarias
NT674
19:25
Scheduled
Las Palmas (LPA)
Binter Canarias
NT179
19:30
Scheduled
Santa Cruz De La Palma (SPC)
Binter Canarias
NT638
19:30
Scheduled
Malaga (AGP)
Vueling
VY3276 expand_more(1)
19:40
Scheduled
Malaga (AGP)
Iberia
IB5305
19:40
Scheduled
Las Palmas (LPA)
Binter Canarias
NT191 expand_more(1)
20:30
Scheduled
Las Palmas (LPA)
Iberia
IB146
20:30
Scheduled
Santa Cruz De La Palma (SPC)
Binter Canarias
NT640
20:30
Scheduled
Santa Cruz De La Palma (SPC)
CanaryFly
PM468 expand_more(1)
20:45
Scheduled
Santa Cruz De La Palma (SPC)
Air Europa
UX2110
20:45
Scheduled
Las Palmas (LPA)
Binter Canarias
NT1771
21:00
Scheduled
Santa Cruz De La Palma (SPC)
Binter Canarias
NT644
21:00
Scheduled
Vigo (VGO)
Binter Canarias
NT5251
21:10
Scheduled
Lanzarote (ACE)
Binter Canarias
NT485
21:30
Scheduled
Puerto del Rosario (FUE)
Binter Canarias
NT429
21:30
Scheduled
Las Palmas (LPA)
Binter Canarias
NT195
21:30
Scheduled
Madrid (MAD)
Iberia
IB3938 expand_more(8)
21:55
Cancelled
Madrid (MAD)
Avianca
AV6163
21:55
Cancelled
Madrid (MAD)
British Airways
BA7098
21:55
Cancelled
Madrid (MAD)
Bulgaria Air
FB1407
21:55
Cancelled
Madrid (MAD)
Jet Linx Aviation
JL6977
21:55
Cancelled
Madrid (MAD)
LATAM Airlines
LA1568
21:55
Cancelled
Madrid (MAD)
Qatar Airways
QR6591
21:55
Cancelled
Madrid (MAD)
Royal Air Maroc
AT5418
21:55
Cancelled
Madrid (MAD)
Vueling
VY5479
21:55
Cancelled
Bilbao (BIO)
Vueling
VY3262 expand_more(1)
22:00
Scheduled
Bilbao (BIO)
Iberia
IB5299
22:00
Scheduled
Sevilla (SVQ)
Vueling
VY3258 expand_more(1)
22:05
Scheduled
Sevilla (SVQ)
Iberia
IB5295
22:05
Scheduled
Puerto del Rosario (FUE)
Binter Canarias
NT435
22:10
Scheduled
Bilbao (BIO)
Air Europa
UX7008
22:10
Scheduled
Barcelona (BCN)
Vueling
VY3214 expand_more(3)
22:25
Scheduled
Barcelona (BCN)
Iberia
IB5285
22:25
Scheduled
Barcelona (BCN)
LATAM Airlines
LA5880
22:25
Scheduled
Barcelona (BCN)
Qatar Airways
QR3666
22:25
Scheduled
Las Palmas (LPA)
Binter Canarias
NT193
22:45
Scheduled
Lanzarote (ACE)
Binter Canarias
NT489
22:50
Scheduled
Destination
Airline
Flight no.
Scheduled
Est./Actual
Status
Lanzarote (ACE)
Binter Canarias
NT452
07:00
Scheduled
Barcelona (BCN)
Vueling
VY3213 expand_more(3)
07:00
Scheduled
Barcelona (BCN)
Iberia
IB5284
07:00
Scheduled
Barcelona (BCN)
LATAM Airlines
LA5894
07:00
Scheduled
Barcelona (BCN)
Qatar Airways
QR3747
07:00
Scheduled
Gran Canaria (LPA)
Binter Canarias
NT106
07:00
Scheduled
Madrid (MAD)
Iberia Express
IB3945 expand_more(8)
07:00
Scheduled
Madrid (MAD)
American Airlines
AA8587
07:00
Scheduled
Madrid (MAD)
Avianca
AV6145
07:00
Scheduled
Madrid (MAD)
British Airways
BA7093
07:00
Scheduled
Madrid (MAD)
Bulgaria Air
FB1404
07:00
Scheduled
Madrid (MAD)
Cathay Pacific
CX1866
07:00
Scheduled
Madrid (MAD)
Jet Linx Aviation
JL6976
07:00
Scheduled
Madrid (MAD)
LATAM Airlines
LA5460
07:00
Scheduled
Madrid (MAD)
Qatar Airways
QR6963
07:00
Scheduled
Fuerteventura (FUE)
Binter Canarias
NT414
07:10
Scheduled
Madrid (MAD)
Air Europa
UX9045 expand_more(6)
07:10
Scheduled
Madrid (MAD)
Aeromexico
AM6874
07:10
Scheduled
Madrid (MAD)
Air France
AF4829
07:10
Scheduled
Madrid (MAD)
Etihad Airways
EY4327
07:10
Scheduled
Madrid (MAD)
ITA Airways
AZ2449
07:10
Scheduled
Madrid (MAD)
KLM
KL3381
07:10
Scheduled
Madrid (MAD)
Tarom
RO9450
07:10
Scheduled
Valencia (VLC)
Vueling
VY3103 expand_more(1)
07:15
Scheduled
Valencia (VLC)
Iberia
IB5240
07:15
Scheduled
Gran Canaria (LPA)
Binter Canarias
NT100
07:30
Scheduled
La Palma (SPC)
Binter Canarias
NT605
07:30
Scheduled
La Palma (SPC)
CanaryFly
PM412 expand_more(1)
07:45
Scheduled
La Palma (SPC)
Air Europa
UX2101
07:45
Scheduled
El Hierro (VDE)
Binter Canarias
NT655
07:55
Scheduled
Gran Canaria (LPA)
Binter Canarias
NT102
08:00
Scheduled
La Palma (SPC)
Binter Canarias
NT607
08:00
Scheduled
Asturias (OVD)
Binter Canarias
NT5460
08:15
Scheduled
Lanzarote (ACE)
Binter Canarias
NT458
08:20
Scheduled
Gran Canaria (LPA)
Binter Canarias
NT104
08:30
Scheduled
Gran Canaria (LPA)
CanaryFly
PM616 expand_more(1)
08:30
Scheduled
Gran Canaria (LPA)
Air Europa
UX2115
08:30
Scheduled
La Palma (SPC)
Binter Canarias
NT690
08:30
Scheduled
Madrid (MAD)
Swiftair
WT183
08:30
Scheduled
Seville (SVQ)
Vueling
VY3255 expand_more(1)
08:35
Scheduled
Seville (SVQ)
Iberia
IB5292
08:35
Scheduled
Malaga (AGP)
Vueling
VY3275 expand_more(1)
08:40
Scheduled
Malaga (AGP)
Iberia
IB5304
08:40
Scheduled
Madrid (MAD)
Ryanair
FR4200
08:45
Scheduled
Madrid (MAD)
Iberia
IB9012
08:50
Scheduled
Gran Canaria (LPA)
Binter Canarias
NT108 expand_more(1)
09:00
Scheduled
Gran Canaria (LPA)
Iberia
IB80
09:00
Scheduled
La Palma (SPC)
Binter Canarias
NT611
09:00
Scheduled
Barcelona (BCN)
Ryanair
FR524
09:15
Scheduled
La Gomera (GMZ)
Binter Canarias
NT651
09:30
Scheduled
Gran Canaria (LPA)
Binter Canarias
NT112
09:30
Scheduled
La Palma (SPC)
CanaryFly
PM418 expand_more(1)
09:45
Scheduled
La Palma (SPC)
Air Europa
UX2102
09:45
Scheduled
Madrid (MAD)
Air Europa
UX9047 expand_more(9)
09:55
Scheduled
Madrid (MAD)
Aeromexico
AM6925
09:55
Scheduled
Madrid (MAD)
Air France
AF4831
09:55
Scheduled
Madrid (MAD)
AirSERBIA
JU7477
09:55
Scheduled
Madrid (MAD)
Delta Air Lines
DL6749
09:55
Scheduled
Madrid (MAD)
Etihad Airways
EY4393
09:55
Scheduled
Madrid (MAD)
ITA Airways
AZ2451
09:55
Scheduled
Madrid (MAD)
KLM
KL3373
09:55
Scheduled
Madrid (MAD)
Saudia
SV6784
09:55
Scheduled
Madrid (MAD)
Turkish Airlines
TK4587
09:55
Scheduled
Lanzarote (ACE)
Binter Canarias
NT468
10:00
Scheduled
Gran Canaria (LPA)
Binter Canarias
NT120
10:00
Scheduled
La Palma (SPC)
Binter Canarias
NT609
10:00
Scheduled
El Hierro (VDE)
Binter Canarias
NT659
10:00
Scheduled
Fuerteventura (FUE)
Binter Canarias
NT422
10:10
Scheduled
Madrid (MAD)
Iberia Express
IB3943 expand_more(6)
10:25
Scheduled
Madrid (MAD)
American Airlines
AA8586
10:25
Scheduled
Madrid (MAD)
Avianca
AV6147
10:25
Scheduled
Madrid (MAD)
British Airways
BA7095
10:25
Scheduled
Madrid (MAD)
Bulgaria Air
FB1408
10:25
Scheduled
Madrid (MAD)
LATAM Airlines
LA7025
10:25
Scheduled
Madrid (MAD)
Vueling
VY5483
10:25
Scheduled
Gran Canaria (LPA)
Binter Canarias
NT114
10:30
Scheduled
Gran Canaria (LPA)
CanaryFly
PM618 expand_more(1)
10:45
Scheduled
Gran Canaria (LPA)
Air Europa
UX2152
10:45
Scheduled
La Palma (SPC)
Binter Canarias
NT617
11:00
Scheduled
Gran Canaria (LPA)
Binter Canarias
NT110 expand_more(1)
11:30
Scheduled
Gran Canaria (LPA)
Iberia
IB98
11:30
Scheduled
Fuerteventura (FUE)
Binter Canarias
NT442
11:30
Scheduled
Lanzarote (ACE)
CanaryFly
PM546 expand_more(1)
11:45
Scheduled
Lanzarote (ACE)
Air Europa
UX2161
11:45
Scheduled
La Palma (SPC)
Binter Canarias
NT613
12:00
Scheduled
Madrid (MAD)
Iberia Express
IB3933 expand_more(1)
12:05
Scheduled
Madrid (MAD)
Avianca
AV6131
12:05
Scheduled
El Hierro (VDE)
Binter Canarias
NT657 expand_more(1)
12:20
Scheduled
El Hierro (VDE)
Iberia
IB627
12:20
Scheduled
Gran Canaria (LPA)
Binter Canarias
NT134 expand_more(1)
13:00
Scheduled
Gran Canaria (LPA)
Iberia
IB147
13:00
Scheduled
La Palma (SPC)
Binter Canarias
NT621 expand_more(1)
13:00
Scheduled
La Palma (SPC)
Iberia
IB629
13:00
Scheduled
Alicante (ALC)
Vueling
VY3119 expand_more(1)
13:10
Scheduled
Alicante (ALC)
Iberia
IB5248
13:10
Scheduled
Fuerteventura (FUE)
Binter Canarias
NT432
13:20
Scheduled
Gran Canaria (LPA)
Binter Canarias
NT1381
13:30
Scheduled
Fuerteventura (FUE)
Binter Canarias
NT436
13:40
Scheduled
Lanzarote (ACE)
Binter Canarias
NT466
13:50
Scheduled
Lanzarote (ACE)
Binter Canarias
NT470
14:00
Scheduled
Gran Canaria (LPA)
Binter Canarias
NT158
14:00
Scheduled
La Palma (SPC)
Binter Canarias
NT603
14:00
Scheduled
Fuerteventura (FUE)
Binter Canarias
NT420 expand_more(1)
14:10
Scheduled
Fuerteventura (FUE)
Iberia
IB101
14:10
Scheduled
Seville (SVQ)
Vueling
VY3257 expand_more(1)
14:15
Scheduled
Seville (SVQ)
Iberia
IB5294
14:15
Scheduled
El Hierro (VDE)
Binter Canarias
NT663
14:35
Scheduled
Santiago (SCQ)
Vueling
VY3224 expand_more(1)
14:35
Scheduled
Santiago (SCQ)
Iberia
IB5287
14:35
Scheduled
Barcelona (BCN)
Vueling
VY3215 expand_more(1)
14:55
Scheduled
Barcelona (BCN)
Iberia
IB5286
14:55
Scheduled
Lanzarote (ACE)
Binter Canarias
NT472
15:00
Scheduled
Gran Canaria (LPA)
Binter Canarias
NT160
15:00
Scheduled
Gran Canaria (LPA)
CanaryFly
PM628 expand_more(1)
15:00
Scheduled
Gran Canaria (LPA)
Air Europa
UX2116
15:00
Scheduled
La Palma (SPC)
Binter Canarias
NT631 expand_more(1)
15:00
Scheduled
La Palma (SPC)
Iberia
IB119
15:00
Scheduled
Madrid (MAD)
Iberia Express
IB3937 expand_more(6)
15:05
Scheduled
Madrid (MAD)
Avianca
AV6133
15:05
Scheduled
Madrid (MAD)
British Airways
BA7137
15:05
Scheduled
Madrid (MAD)
LATAM Airlines
LA1567
15:05
Scheduled
Madrid (MAD)
Qatar Airways
QR6596
15:05
Scheduled
Madrid (MAD)
Royal Air Maroc
AT5417
15:05
Scheduled
Madrid (MAD)
Vueling
VY5478
15:05
Scheduled
Bilbao (BIO)
Air Europa
UX7007
15:10
Scheduled
Fuerteventura (FUE)
CanaryFly
PM374 expand_more(1)
15:20
Scheduled
Fuerteventura (FUE)
Air Europa
UX2139
15:20
Scheduled
Bilbao (BIO)
Vueling
VY3263 expand_more(1)
15:20
Scheduled
Bilbao (BIO)
Iberia
IB5300
15:20
Scheduled
Vigo (VGO)
Binter Canarias
NT5250
15:25
Scheduled
Gran Canaria (LPA)
Binter Canarias
NT166
16:00
Scheduled
Seville (SVQ)
Ryanair
FR1163
16:00
Scheduled
La Palma (SPC)
Binter Canarias
NT633
16:00
Scheduled
Gran Canaria (LPA)
Binter Canarias
NT168
16:30
Scheduled
Fuerteventura (FUE)
Binter Canarias
NT426 expand_more(1)
16:40
Scheduled
Fuerteventura (FUE)
Iberia
IB88
16:40
Scheduled
Lanzarote (ACE)
Binter Canarias
NT474 expand_more(1)
16:50
Scheduled
Lanzarote (ACE)
Iberia
IB84
16:50
Scheduled
La Gomera (GMZ)
Binter Canarias
NT653 expand_more(1)
17:00
Scheduled
La Gomera (GMZ)
Iberia
IB123
17:00
Scheduled
Gran Canaria (LPA)
Binter Canarias
NT170 expand_more(1)
17:00
Scheduled
Gran Canaria (LPA)
Iberia
IB141
17:00
Scheduled
La Palma (SPC)
Binter Canarias
NT623
17:00
Scheduled
La Palma (SPC)
CanaryFly
PM454 expand_more(1)
17:00
Scheduled
La Palma (SPC)
Air Europa
UX2155
17:00
Scheduled
Madrid (MAD)
Iberia Express
IB3955 expand_more(4)
17:25
Scheduled
Madrid (MAD)
Avianca
AV6199
17:25
Scheduled
Madrid (MAD)
LATAM Airlines
LA1572
17:25
Scheduled
Madrid (MAD)
Qatar Airways
QR6878
17:25
Scheduled
Madrid (MAD)
Vueling
VY5495
17:25
Scheduled
Gran Canaria (LPA)
Binter Canarias
NT162
17:30
Scheduled
La Palma (SPC)
Binter Canarias
NT647
17:30
Scheduled
El Hierro (VDE)
Binter Canarias
NT673 expand_more(1)
17:35
Scheduled
El Hierro (VDE)
Iberia
IB632
17:35
Scheduled
Madrid (MAD)
Air Europa
UX9117 expand_more(2)
17:55
Scheduled
Madrid (MAD)
Aeromexico
AM6897
17:55
Scheduled
Madrid (MAD)
Etihad Airways
EY4349
17:55
Scheduled
Lanzarote (ACE)
CanaryFly
PM548 expand_more(1)
18:00
Scheduled
Lanzarote (ACE)
Air Europa
UX2154
18:00
Scheduled
Gran Canaria (LPA)
Binter Canarias
NT178
18:00
Scheduled
La Palma (SPC)
Binter Canarias
NT637
18:00
Scheduled
Gran Canaria (LPA)
Swiftair
WT188
18:25
Scheduled
Gran Canaria (LPA)
Binter Canarias
NT176
18:30
Scheduled
Madrid (MAD)
Swiftair
WT882
18:30
Scheduled
Seville (SVQ)
Vueling
VY3259 expand_more(1)
18:35
Scheduled
Seville (SVQ)
Iberia
IB5296
18:35
Scheduled
Madrid (MAD)
Iberia
IB3759
19:00
Scheduled
Gran Canaria (LPA)
Binter Canarias
NT186
19:00
Scheduled
Gran Canaria (LPA)
CanaryFly
PM668 expand_more(1)
19:00
Scheduled
Gran Canaria (LPA)
Air Europa
UX2118
19:00
Scheduled
La Palma (SPC)
Binter Canarias
NT639
19:00
Scheduled
Madrid (MAD)
Iberia
IB3939 expand_more(3)
19:15
Scheduled
Madrid (MAD)
Avianca
AV6107
19:15
Scheduled
Madrid (MAD)
LATAM Airlines
LA5459
19:15
Scheduled
Madrid (MAD)
Vueling
VY5480
19:15
Scheduled
La Palma (SPC)
CanaryFly
PM467 expand_more(1)
19:15
Scheduled
La Palma (SPC)
Air Europa
UX2105
19:15
Scheduled
Madrid (MAD)
Swiftair
WT123
19:15
Scheduled
Fuerteventura (FUE)
Binter Canarias
NT428 expand_more(1)
19:20
Scheduled
Fuerteventura (FUE)
Iberia
IB103
19:20
Scheduled
Lanzarote (ACE)
Binter Canarias
NT484 expand_more(1)
19:30
Scheduled
Lanzarote (ACE)
Iberia
IB109
19:30
Scheduled
Gran Canaria (LPA)
Binter Canarias
NT1741
19:30
Scheduled
La Palma (SPC)
Binter Canarias
NT643
19:30
Scheduled
Fuerteventura (FUE)
Binter Canarias
NT448
20:00
Scheduled
Gran Canaria (LPA)
Binter Canarias
NT188 expand_more(1)
20:00
Scheduled
Gran Canaria (LPA)
Iberia
IB118
20:00
Scheduled
Barcelona (BCN)
Vueling
VY3209 expand_more(1)
20:05
Scheduled
Barcelona (BCN)
Iberia
IB5280
20:05
Scheduled
La Palma (SPC)
Binter Canarias
NT627 expand_more(1)
20:10
Scheduled
La Palma (SPC)
Iberia
IB121
20:10
Scheduled
Malaga (AGP)
Vueling
VY3277 expand_more(1)
20:15
Scheduled
Malaga (AGP)
Iberia
IB5306
20:15
Scheduled
Gran Canaria (LPA)
Binter Canarias
NT192
21:00
Scheduled
Lanzarote (ACE)
Binter Canarias
NT488 expand_more(1)
22:00
Scheduled
Lanzarote (ACE)
Iberia
IB104
22:00
Scheduled
Gran Canaria (LPA)
Binter Canarias
NT190
22:15
Scheduled
Flying To and From Tenerife Los Rodeos Airport
This page provides information about the destinations that can be reached via Tenerife Los Rodeos Airport.
Was your flight delayed or cancelled?
You may be eligible to receive up to 600 EUR compensation per person in your party..
Claim Now!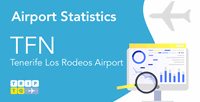 In July 2023, there was a remarkable passenger surge, with a 6.36% increase compared to the pre-pandemic records, however, significant wildfires in the region threaten flights in August...